Descoperă filme

Comedie, acţiune, dramă, ...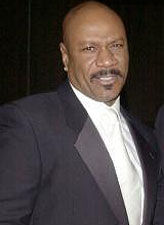 Poze Ving Rhames
Nume real
: Irving Rhames ·
Locul naşterii
: New York City, New York, USA ·
Data naşterii
:
12.05.1959
(62 ani) ·
Ocupaţie
: Actor ·
Constituţie
: musculoasă ·
Înălţime
: 183 cm ·
Culoarea ochilor
: căprui ·
Culoarea părului
: chel ·
Zodia
: Taur ·
Etnie/rasă
: de culoare ·
Universitate
: Juilliard School of Drama, New York High School of Performing Arts, State University of New York at Purchase ·
Țara
: SUA
Biografie
Rhames este din Harlem, New York, unde și-a început cariera actoricească la New York High School for Performing Arts și Juilliard School of Drama. După ce a absolvit Juilliard în 1983, Rhames și-a făcut debutul în apreciata producție a lui Joe Papp din seria Shakespeare in the Park, "King Richard III."
În 1994, Rhames a jucat rolul durului traficant de droguri Marsellus "Big Man" Wallace, în filmul lui Tarantino "Pulp Fiction." La scurt timp după aceea, a făcut...
mai mult

Vezi toate filmele
Spune-ţi părerea despre Ving Rhames
Pentru a scrie un review trebuie sa fii autentificat. Click
aici
pentru a te autentifica.
Liste cu Ving Rhames
listă cu 114 actori, creată de Vegetarian pe 30 Iulie 2013

listă cu 987 actori, creată de Vegetarian pe 20 Decembrie 2011

listă cu 8 actori, creată de Ionutz15 pe 11 Octombrie 2011
Urmăreşte-ne
Acest site folosește cookie-uri. Navigând în continuare, vă exprimați acordul asupra folosirii cookie-urilor.
Află mai multe

Copyright© 2000-2021 Cinemagia®
Termeni şi condiţii | Contact | Politica de confidențialitate | A.N.P.C