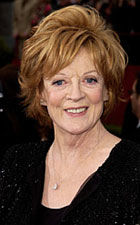 Poze Maggie Smith
Monden

S-a căsătorit cu
Robert Stephens
în anul 1967
Vezi toate »
Nume real
: Margaret Natalie Smith ·
Locul naşterii
: Ilford, Essex, England, UK ·
Data naşterii
:
28.12.1934
(84 ani) ·
Ocupaţie
: Actrita ·
Constituţie
: subţire ·
Înălţime
: 165 cm ·
Culoarea ochilor
: albaştri ·
Culoarea părului
: şaten ·
Zodia
: Capricorn ·
Etnie/rasă
: albă ·
Liceul
: Oxford High School For Girls (1950) ·
Țara
: Marea Britanie
Biografie
Este una dintre cele mai mari actrite din întreaga lume, respectatã atât de colegii sãi de breaslã cât si de public, si a obtinut numeroase premii, inclusiv douã premii Oscar, si titlurile Commander (of the Order) of the British Empire (CBE) si Dame Commander (of the Order) of the British Empire (DBE).
Smith a apãrut pentru prima datã pe scena unui teatru cu Oxford University Society în 1952 si a debutat ca actritã profesionistã în New York în The New Faces 1956 Revue. S-a alãturat companiei Old Vic în 1959...
mai mult

Vezi toate filmele
Spune-ţi părerea despre Maggie Smith
Pentru a scrie un review trebuie sa fii autentificat. Click
aici
pentru a te autentifica.
Acest site folosește cookie-uri. Navigând în continuare, vă exprimați acordul asupra folosirii cookie-urilor.
Află mai multe

Copyright© 2000-2019 Cinemagia®
Termeni şi condiţii | Contact | Politica de confidențialitate | A.N.P.C