Descoperă filme

Comedie, acţiune, dramă, ...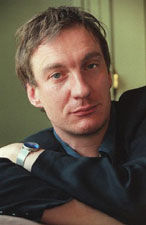 Poze David Thewlis
Monden

S-a căsătorit cu
Sara Sugarman
în anul 1992
Vezi toate »
Locul naşterii
: Blackpool, Lancashire, England, UK ·
Data naşterii
:
20.03.1963
(59 ani) ·
Ocupaţie
: Actor, regizor ·
Constituţie
: medie ·
Înălţime
: 193 cm ·
Culoarea ochilor
: albaştri ·
Culoarea părului
: şaten ·
Zodia
: Peşti ·
Etnie/rasă
: albă ·
Universitate
: Guildhall School of Music and Drama, London ·
Țara
: Marea Britanie
Biografie
Actorul de teatru si de cinema David Thewlis este recunoscut pe plan international. El a lucrat cu unii dintre regizorii de film celebri din zilele noastre, cum ar fi Ridley Scott, the Coen Brothers, Mike Leigh, Bernardo Bertolucci, Jean-Jacques Annaud si Terrence Malik.
Actorul britanic Thewlis a ajuns pentru prima data in atentia publicului cu rolul din filmul lui Mike Leigh Naked, cu care a castigat premiul pentru "Cel mai bun actor" la Festivalul filmului de la Cannes. Au urmat curand alte roluri in filmele lui John...
mai mult

Vezi toate filmele
Spune-ţi părerea despre David Thewlis
Pentru a scrie un review trebuie sa fii autentificat. Click
aici
pentru a te autentifica.
Liste cu David Thewlis
listă cu 100 actori, creată de Jazz-Stalker pe 8 Noiembrie 2012

listă cu 100 actori, creată de rothmans pe 2 Octombrie 2011
Urmăreşte-ne
Acest site folosește cookie-uri. Navigând în continuare, vă exprimați acordul asupra folosirii cookie-urilor.
Află mai multe

Copyright© 2000-2023 Cinemagia®
Termeni şi condiţii | Contact | Politica de confidențialitate | A.N.P.C