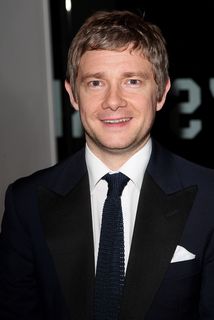 Poze Martin Freeman
Monden

A fost / este într-o relaţie cu
Amanda Abbington
din 2007
Vezi toate »
Locul naşterii
: Aldershot, Hampshire, England, UK ·
Data naşterii
:
08.09.1971
(47 ani) ·
Ocupaţie
: Actor ·
Constituţie
: medie ·
Înălţime
: 173 cm ·
Culoarea ochilor
: căprui ·
Culoarea părului
: şaten ·
Zodia
: Fecioară ·
Etnie/rasă
: albă
Biografie
Martin John Christopher Freeman (n. 8 septembrie 1971, Aldershot, Hampshire) este un actor englez. Este cel mai bine cunoscut pentru rolul lui Tim Canterbury din serialul britanic The Office, ca Dr. Watson în Sherlock sau ca Bilbo Baggins din trilogia lui Peter Jackson, Hobbitul.
Alte roluri notabile ale lui Freeman: Pur și simplu dragoste, Ghidul autostopistului galactic, Povestea nașterii sau The World's End (2013).

Vezi toate filmele
Spune-ţi părerea despre Martin Freeman
Pentru a scrie un review trebuie sa fii autentificat. Click
aici
pentru a te autentifica.
Acest site folosește cookie-uri. Navigând în continuare, vă exprimați acordul asupra folosirii cookie-urilor.
Află mai multe

Copyright© 2000-2018 Cinemagia®
Termeni şi condiţii | Contact | Politica de confidențialitate | A.N.P.C