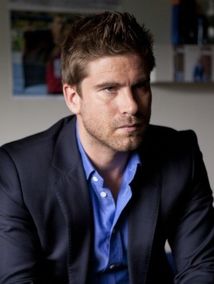 Poza Kevin Janssens
Monden

A fost împreună cu Natalia Druyts între 2008 şi 2009
Vezi toate »
Locul naşterii
: Antwerpen, Belgia ·
Data naşterii
:
21.08.1979
(39 ani) ·
Ocupaţie
: Actor ·
Zodia
: Leu ·
Țara
: Belgia
Biografie
Kevin Janssens a urmat cursurile institutului Herman Teirlinck din Antwerp (Belgia) și a primit primul rol important din cariera sa, în ultimul an de studii, când a fost distribuit în rolul principal din mini-seria TV, King Of The World.  A continuat să joace roluri importante, în seriale foarte cunoscute în Belgia, precum Windkracht: Koksijde Rescue sau Missing. De asemenea, s-a făcut remarcat cu rolul interpretat în filmul The Ardennes, selecționat la Festivalul Internaţional de Film de la Toronto.
Spune-ţi părerea despre Kevin Janssens
Pentru a scrie un review trebuie sa fii autentificat. Click
aici
pentru a te autentifica.
Acest site folosește cookie-uri. Navigând în continuare, vă exprimați acordul asupra folosirii cookie-urilor.
Află mai multe

Copyright© 2000-2019 Cinemagia®
Termeni şi condiţii | Contact | Politica de confidențialitate | A.N.P.C