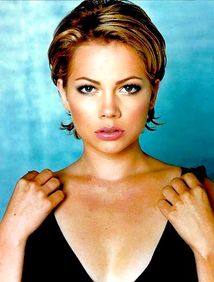 Poze Michelle Williams
Monden

A fost împreună cu Conor Oberst între 1999 şi 2001
Vezi toate »
Nume real
: Michelle Ingrid Williams ·
Locul naşterii
: Kalispell, Montana, USA ·
Data naşterii
:
09.09.1980
(37 ani) ·
Ocupaţie
: Actrita ·
Constituţie
: subţire ·
Înălţime
: 163 cm ·
Culoarea ochilor
: verzi ·
Culoarea părului
: blond ·
Zodia
: Fecioară ·
Etnie/rasă
: albă ·
Liceul
: Santa Fe Christian High School. ·
Țara
: SUA
Biografie
In 2004, Michelle Williams a impartit cu colegii din filmul lui Thomas McCarthy - The Station Agent o nominalizare la Premiul Asociatiei actorilor de pe marele ecran (Screen Actors Guild) la categoria "Interpretare de exceptie a unei distributii", intr-un film artistic. Filmul castigase initial Premiul Publicului la Festivalul de Film Sundance si Premiul BAFTA.
De curand a incheiat filmarile la productia lui Julian Goldberger The Hawk is Dying, alaturi de Paul Giamatti si Michael Pitt. Anul trecut, Williams a jucat in filmul...
mai mult

Vezi toate filmele
Spune-ţi părerea despre Michelle Williams
Pentru a scrie un review trebuie sa fii autentificat. Click
aici
pentru a te autentifica.
Liste cu Michelle Williams
Acest site folosește cookie-uri. Navigând în continuare, vă exprimați acordul asupra folosirii cookie-urilor.
Află mai multe

Copyright© 2000-2018 Cinemagia®
Termeni şi condiţii | Contact | A.N.P.C