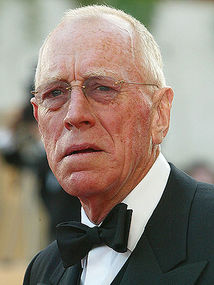 Poze Max von Sydow
Monden
S-a căsătorit cu Catherine Brelet în anul 1997
Vezi toate »
Locul naşterii
: Lund, Skåne län, Sweden ·
Data naşterii
:
10.04.1929
(90 ani) ·
Ocupaţie
: Actor, regizor ·
Constituţie
: subţire ·
Înălţime
: 190 cm ·
Culoarea ochilor
: albaştri ·
Culoarea părului
: blond ·
Zodia
: Berbec ·
Etnie/rasă
: albă ·
Țara
: Suedia
Biografie
A devenit cunoscut datorita unor roluri din filme regizate de Ingmar Bergman, intre care The Seventh Seal (1957), apoi a jucat rolul lui Isus in The Greatest Story Ever Told (1965), in regia lui George Stevens. El a studiat actoria la Stockholm's Royal Dramatic Theater School si a obtinut primul sau rol in Only A Mother (1949), dar a petrecut apoi zece ani perfectionandu-se in jocul scenic teatral. A mai aparut in filmele lui Bergman Wild Strawberries, The Magician, Brink Of Life, The Virgin Spring, Through A Glass Darkly, Hour Of...
mai mult

Vezi toate filmele
Spune-ţi părerea despre Max von Sydow
Pentru a scrie un review trebuie sa fii autentificat. Click
aici
pentru a te autentifica.
Liste cu Max von Sydow
listă cu 961 actori, creată de Vegetarian pe 20 Decembrie 2011

listă cu 93 actori, creată de diablo85 pe 11 Martie 2013
Acest site folosește cookie-uri. Navigând în continuare, vă exprimați acordul asupra folosirii cookie-urilor.
Află mai multe

Copyright© 2000-2019 Cinemagia®
Termeni şi condiţii | Contact | Politica de confidențialitate | A.N.P.C