Descoperă filme

Comedie, acţiune, dramă, ...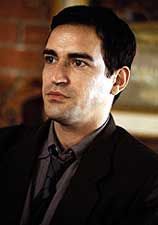 Poze Ben Chaplin
Monden

A fost împreună cu
Embeth Davidtz
Vezi toate »
Locul naşterii
: London, England, UK ·
Data naşterii
:
31.07.1970
(52 ani) ·
Ocupaţie
: Actor ·
Constituţie
: medie ·
Înălţime
: 180 cm ·
Culoarea ochilor
: căprui ·
Culoarea părului
: castaniu ·
Zodia
: Leu ·
Etnie/rasă
: albă ·
Țara
: Marea Britanie
Biografie
Actor de origine britanica, el si-a facut debutul intr-un film american jucand impreuna cu Uma Thurman si Jeaneane Garafolo in comedia romantica ,,The Truth About Cats and Dogs". De asemenea el detine rolul principal in ,,Washington Square". In curand, Chaplin va fi vazut jucand in ,,Birthday Girl" alaturi de Nicole Kidman. Chaplin a lucrat in teatru si in televiziune in Marea Britanie, fiind distribuit in ,,Remains of the Day" si ,,Feast of July".

Vezi toate filmele
Spune-ţi părerea despre Ben Chaplin
Pentru a scrie un review trebuie sa fii autentificat. Click
aici
pentru a te autentifica.
Urmăreşte-ne
Acest site folosește cookie-uri. Navigând în continuare, vă exprimați acordul asupra folosirii cookie-urilor.
Află mai multe

Copyright© 2000-2023 Cinemagia®
Termeni şi condiţii | Contact | Politica de confidențialitate | A.N.P.C