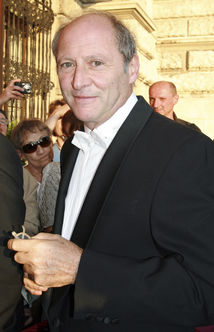 Poza Robert Dornhelm
Monden

A fost împreună cu
Grace Kelly
între 1977 şi 1981
Vezi toate »
Locul naşterii
: Timişoara ·
Data naşterii
:
17.12.1947
(71 ani) ·
Ocupaţie
: Regizor, actor ·
Zodia
: Săgetător
Biografie
Robert Dornhelm (n. 17 decembrie 1947, Timișoara) este un regizor austriac de origine română. În 1961 a emigrat cu familia sa în Austria. Între anii 1965 și 1967 a studiat la Academia de Film din Viena. Filmul său de debut este The Children of Theatre Street din 1977, pentru care a fost nominalizat la Oscar la categoria Film Documentar în anul 1978.
Filmografie - el însuşi / ea însăşi

Spune-ţi părerea despre Robert Dornhelm
Pentru a scrie un review trebuie sa fii autentificat. Click
aici
pentru a te autentifica.
Acest site folosește cookie-uri. Navigând în continuare, vă exprimați acordul asupra folosirii cookie-urilor.
Află mai multe

Copyright© 2000-2019 Cinemagia®
Termeni şi condiţii | Contact | Politica de confidențialitate | A.N.P.C