Descoperă filme

Comedie, acţiune, dramă, ...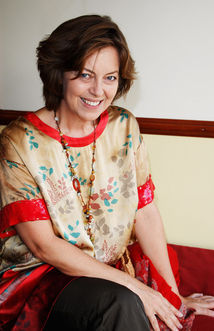 Poza Greta Scacchi
Monden
A fost / este într-o relaţie cu Carlo Mantegazza din 1996
Vezi toate »
Nume real
: Greta Gracco ·
Locul naşterii
: Milan, Lombardy, Italy ·
Data naşterii
:
18.02.1960
(61 ani) ·
Ocupaţie
: Actrita ·
Constituţie
: medie ·
Înălţime
: 175 cm ·
Culoarea ochilor
: albaştri ·
Culoarea părului
: blond ·
Zodia
: Vărsător ·
Etnie/rasă
: albă ·
Țara
: Australia
Biografie
Greta Scacchi, nascuta Greta Gracco, fiica unui pictor italian, Luca Scacchi Gracco, si a unei dansatoare britanice, Pamela Carsaniga, si-a facut debutul actoricesc in teatru, la University Of Western Australia, in pieasa lui Edward Bond Early Morning.

In 1982 are primul sau rol intr-un film german, Das Zweite Gesicht (The second face), iar mai apoi adevaratele succese din filme ca : The Ebony Tower, The Coca-Cola Kid, Presumed Innocent, The Player si Country Life, dar in 1992 i se ofera rolul Catherynei Trammell din...
mai mult

Vezi toate filmele
Spune-ţi părerea despre Greta Scacchi
Pentru a scrie un review trebuie sa fii autentificat. Click
aici
pentru a te autentifica.
Acest site folosește cookie-uri. Navigând în continuare, vă exprimați acordul asupra folosirii cookie-urilor.
Află mai multe

Copyright© 2000-2021 Cinemagia®
Termeni şi condiţii | Contact | Politica de confidențialitate | A.N.P.C