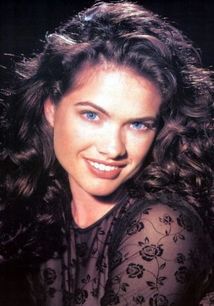 Poze Heather Langenkamp
Monden
S-a căsătorit cu Alan Pasqua în anul 1984
Vezi toate »
Locul naşterii
: Oklahoma, SUA ·
Data naşterii
:
17.07.1964
(54 ani) ·
Ocupaţie
: Actriţă ·
Constituţie
: medie ·
Înălţime
: 160 cm ·
Culoarea părului
: castaniu ·
Zodia
: Rac ·
Etnie/rasă
: albă ·
Universitate
: University of Tulsa College of Law ·
Țara
: SUA
Biografie
Heather Langenkamp s-a nascut in Tulsa, Oklahoma, in data de iulie 17, 1964. Este fica artistei Mary Alice Langenkamp si a lui Robert Dobie Langenkamp, Junior. Ea conduce "Malibu Gum Company". S-a maritat de 2 ori, are 2 copii impreuna cu al doilea sot, Daniel Atticus.
Filmografie - în dezvoltare
Filmografie - el însuşi / ea însăşi

Vezi toate filmele
Spune-ţi părerea despre Heather Langenkamp
Pentru a scrie un review trebuie sa fii autentificat. Click
aici
pentru a te autentifica.
Liste cu Heather Langenkamp
listă cu 100 actori, creată de zumzooma pe 8 Decembrie 2012
Acest site folosește cookie-uri. Navigând în continuare, vă exprimați acordul asupra folosirii cookie-urilor.
Află mai multe

Copyright© 2000-2018 Cinemagia®
Termeni şi condiţii | Contact | Politica de confidențialitate | A.N.P.C