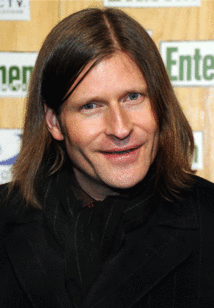 Poze Crispin Glover
Monden

A avut o aventură cu Jessicka Fodera în anul 2000
Vezi toate »
Nume real
: Crispin Hellion Glover ·
Locul naşterii
: New York City, New York, USA ·
Data naşterii
:
20.04.1964
(55 ani) ·
Ocupaţie
: Regizor, scenarist, producător, actor ·
Constituţie
: subţire ·
Înălţime
: 185 cm ·
Culoarea ochilor
: albaştri ·
Culoarea părului
: castaniu ·
Zodia
: Berbec ·
Etnie/rasă
: albă ·
Liceul
: Beverly Hills High School, Beverly Hills, CA (1982) ·
Țara
: SUA
Biografie
Crispin Glover (Thin Man) a interpretat rolul legendei pop Andy Warhol in filmul regizat de Oliver Stone, "The Doors". Glover a aparut intr-o varietate de roluri in filme apreciate ca "The People vs. Larry Flynt" (Scandalul Larry Flynt), "River's Edge", "At Close Range", "Even Cowgirls Get the Blues", "What's Eating Gilbert Grape?", "Wild At Heart", "Rubin and Ed" si prima versiune a lui "Back to the Future" (Inapoi in viitor) unde juca rolul George McFly. Din filmografia sa mai amintim "Little Noises", "Where the Heart Is",...
mai mult

Vezi toate filmele
Spune-ţi părerea despre Crispin Glover
Pentru a scrie un review trebuie sa fii autentificat. Click
aici
pentru a te autentifica.
Liste cu Crispin Glover
listă cu 26 actori, creată de GinaShatner pe 19 Noiembrie 2012
Acest site folosește cookie-uri. Navigând în continuare, vă exprimați acordul asupra folosirii cookie-urilor.
Află mai multe

Copyright© 2000-2019 Cinemagia®
Termeni şi condiţii | Contact | Politica de confidențialitate | A.N.P.C